I'm on the excruciating one-hour bus ride home after a day at uni, lucky I have my Ipod on me otherwise my selection of music would be the either 'Sweet Home Alabama' repeatedly on 101.7fm from the bus's radio or the electro-house beats radiating from some dudes head phones behind me. Today is Wednesday- Wednesdays at my uni are the days when bands come at lunchtime and play in our small bar. Over the last 4 semesters bands have been entertaining us in-between lectures for free (woo woo thanks to the Union!) We have had Mercy Arms, Ghostwood, Operator Please (they had the biggest crowd turn up on record), Dash and Will, Nathan Hudson, Luke Steel, Cuthbert and The Nightwalkers, Lover, Children Collide, Expatriate and last week Magic Dirt played, summoning an enthusiastic crowd who moshed to their new and old tunes. 1 in the afternoon is way too early for me to get dancing or into the mood to mosh so I just skimmed the sidelines of the bar and tapped my foot and nodded my head from a safe distance. Today Andy Bull played before Little Red at my uni bar and his style has obvious funk influences and he had the soul vibe going on too. His voice is presented in a high register which makes him sound different to what I expected but he was backed with a drummer, bassist and 3-piece brass band comprised of a saxophonist, trumpeter and trombone-player which was quite impressive. He's not my usual taste and right now I'm listening to his recorded tracks but I don't think it entirely gives him enough credit because the band live were very entertaining and I enjoyed his set quite a bit. Following him were Little Red who were pretty relaxed but seemed to be enjoying themselves immensely whilst they were draped with leis that were randomly being handed out around campus. My foot didn't stop tapping the whole time and I actually enjoyed them more in the relaxed setting of my university bar more than when they supported Vampire Weekend a few weeks back.


Andy Bull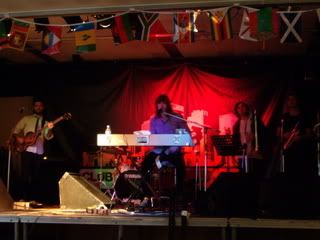 Yesterday I turned up to Oxford Art Factory at 5pm and joined the long queue of people to see Death Cab For Cutie for a Myspace live show that was broadcasted across the internet all over the world. Like lemmings me all streamed into the gallery to access the main room via the back entrance adjacent to the bathrooms and as my friend and I shuffled closer and closer towards the door with the current three people in front of us were halted and told that the main room was now at full capacity and we had to sit in the gallery and watch through the window or view Death Cab on the projector. A wave a disappointment came over me and I didn't know whether to be angry or deflated. But my friend Peter was persistent to get in so he and I both said to the guard that we needed to leave the gallery to head into the bathrooms..which we did, but a few minutes later we waltzed right into the main room and another security guard just let us through! So I felt like I hadn't wasted my time and felt a bit naughty for 'sneaking' in..but knowing me if my friend hadn't lead the way I would have been a big push-over and would have sat in the gallery fuming. Take that..I still got through to the main room!!
YAY:
•Someone Still Loves You Boris Yeltsin- this Missouri band have been around for a few years but I melt to their pop tunes such as 'Oregon Girl'.
•I've had some of Sparkadia's new tunes stuck in my head this week.
•'Young Bride' by Midlake. Mmmm!
•My friend sent me this comic..it's about music nerds and I think he was trying to hint that I have some connection to this comic: http://www.dustinland.com/archives/archives347.html
•I spotted some street art in Sydney the other day! In Omnibus Lane right near Ultimo Tafe some amazing people have decorated the walls.
Street Art in Omnibus Ln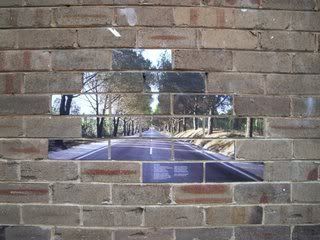 NAY:
•MGMT tickets sold out in well-under a minute! Booohoo.
•My camera batteries decided to die on me during Death Cab For Cutie and kept flashing "BATTERY DEPLETED".
...I don't have much negative to say this week :)