This past week we have had creative people with instruments in hand arrive on our shores. These people have given live music in Australia that boost of excitement, with bands such as Sigur Ros, Band of Horses, Vampire Weekend, The Fratellis, Devo, Cold War Kids, Tokyo Police Club, Laura Marling and New Young Pony Club as a handful of the most anticipated bands to catch while they are down under. Most of these bands have also held side shows too and if you are like me and didn't get to road trip up to Byron Bay, the side shows were easier to fit around a busy schedule. Being a poor uni student I managed to see one of these side-shows on Monday at the Metro where Vampire Weekend charmed the pants off everyone, not literally though and I'm glad about it because I think it is rather distasteful when people throw their underwear on stage- reminiscent of Jason Mraz at The Forum 2006 when a woman and a man took off their hopefully unsoiled undergarments and catapulted it onto the stage. Jason was slightly amused but grossed out by it. I can just imagine the chaffing the man would have felt on the bus ride home..ewww.
Back to Vampire Weekend though..they were supported by Little Red who have received a great deal of praise for their short 60's pop and rock 'n' roll infused tunes off their debut album 'Listen To Little Red'. I have heard and read nothing but good news about these cats. The crowd at the Metro were very inviting when they came on stage and as soon as they began people were jittering and some were jiving as they played a musical-chairs-like game with their lead vocalists, rotating regularly and harmonising together. I didn't feel like I was in the 21st century, and I realised more suitable attire would have been a big polka dot dress, ponytail and scarf around my neck. I have seen Little Red before and it is hard to stand there without tapping a foot or two. Then Vampire Weekend graced the stage and the crowd erupted in excitement, cheering and wolf-whistling and they started with "Mansard Roof" which was a fun sing-a-long. Vampire Weekend have this boyish charisma that ooze out of them especially from the lead singer, Ezra Koenig, who shared multiple smiles all around and seemed delighted to be in Australia. It's hard for a few people to accept they are from New York since they seem like they hail from the UK but once Ezra greeted the audience with his American accent it was evident that they were not a British band at all. They cheerfully played through their entire debut album tracklist of afro-pop with three new tracks as well and their bassist was cheerful too, dancing as he played. It would have been next to impossible to not ingest the happy atmosphere and leave there feeling like they were as good live as they are on CD. As for the other Splendour side-shows I missed out on Sigur Ros which I heard was amazing and a friend of mine went to Band of Horses, informing me mid-set that he was close to tears because they were so impressive.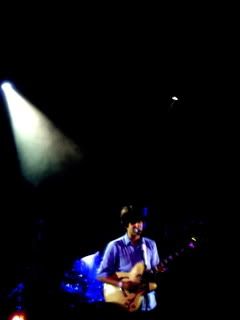 So now that it is post-Splendour the other festivals to look forward to in Australia are The Great Escape and Big Day Out. But I have heard some news from a little birdy..supposedly The Great Escape has been canned due to poor ticket sales. Ouch. The lineup was pretty impressive with Conor Oberst and The Mystic Valley Band, Ladytron, Joan as Police Woman, The New Pornographers and We Are Scientists as the top international acts for this festival. It is disappointing that, if this is true, that another chance to see some great bands from overseas as well as some of the best locals bands will be sent back home. The Great Escape Festival also offered free camping with every ticket that was sold. This reminds me of Playground Weekender which did go ahead but had poor ticket sales, free tickets were being handed out desperately so people would show up. What has happened that has caused people to become disinterested in festivals like this but festivals such as Big Day Out still sell-out? It's a mystery to me.
YAY:
•Bourke St Bakery- I visited there yesterday and bought a delightful strawberry and creme brulee tart, it contained real vanilla bean seeds and they were playing MGMT while I was ordering my dessert. Amazing food and great music playing while they are at work..I wish I worked there.
•Feist's 'The Reminder'- It's been out for a while but I love this album. I played it while I hosted a tea party and when I clean the house.
•Jack Ladder on "Good Day New York"- Jack had a chat to the female host before he performed "Love Is Gone", where the woman was short in comparison and with a strong American accent where Jack is tall and is a pretty quiet guy. The awkwardness of the conversation was enough to make me giggle but it's good to see the Hopetoun regular in the spotlight although I can imagine Kerry Anne wouldn't be calling him up for an appearance when he gets back.
NAY:
•Ian Curtis' Gravestone-I know it's old news but I think it is ridiculous that someone stole his gravestone. I can just imagine the jerk showing his/her friends the prized-stolen-possession and getting punched for it.
•The 'shock' of one of The Veronicas nude photos that leaked on the net- It was evident from their first single that they aren't sugar coated and have no talent. Lame lame lame.
•I can't escape The Living End's new single "White Noise". It's on in the bus, on the tv, on in my brother's room. I used to love TLE, I even covered my school folder in a poster i made that represented the album cover of 'Modern Artillery', but I'm not connecting with their new music although everyone else seems to be. Perhaps I'm being uptight. Perhaps I have to remind myself that Chris Cheney is one of Australia's best guitarists and that TLE are really good live..
•As good as Vampire Weekend were I had to stand on my tippy-toes the whole time, stuck in a crevice behind the two tallest guys at the gig. I rocked side-to-side to get a view of the stage. Where is the gallantry?