"SYDNEY'S INDIE MUSIC SCENE IS NEAR IT'S END!!!"

So this is what I've heard a few people shouting out lately, ok..they weren't exactly 'shouting' but they were prophesising what seems to be an apocalyptic ending to the beloved and rather creative music scene in one of Australia's best cities (let's not start on the 'Australia's BEST city: Sydney vs Melbourne' argument). I think the idea that it's near its end is pretty ridiculous but I think there are reasons for such suggestions and predictions:

Reason 1) Some people believe that independent music has lost some of it's appeal.
This could be due to the current trends in music that are becoming tedious, predictable and past their time. Who knows. Or it could also be a reaction to neglect as a consequence of some of Sydney's favourite bands who have been on hiatus over the past year recording albums (eg Mercy Arms) or venturing overseas (eg teenagersintokyo, Ghostwood), popping up for some quick gigs and then disappearing just as fast as they sell-out of their tickets. A prime example is Dappled Cities who left us last year to embark on an adventure in the USA after their truly wonderful double-headliner with Red Riders at The Metro-I had never seen so many girls at an indie gig scream in hysteria whilst clinging to their balloons that flaunted the words 'I LOVE YOU'. I guess it was, after all, all ages. But those arduous six months that they were away flew by and the Dappled boys returned to us in late 2007, coming back to play across two nights and Oxford Art Factory where the sold-out second night sat on Valentine's Day. They made all in attendance forget their singledom and presented some new tasty material as well as an emotional adieu to their drummer Hugh Boyce. Now the boys with a new drummer in tow are away again (hibernating!) to record for their new album. However they secured their appeal to Sydney last month when they impressed everyone at the Annandale when they decided to dress-up for the occasion in elaborate coats, hats, feathers and knickerbockers handing them the image of older century nautical captains. Except Ned, he was dressed as a tiger.


Dappled Cities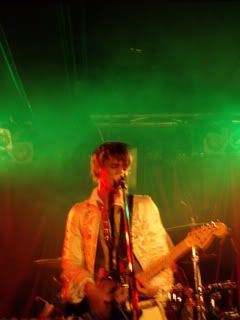 Perhaps the 'loss of appeal' that some are feeling is also due to the fact that over the past year there hasn't been a vast array of fresh faces or names gracing our stages that we haven't heard of before; of course we love the old faces but the familiar lineups have been becoming somewhat tiresome. This is where we can congratulate some recent support bands that have surprised us- such as Newcastle's 'Bear At The Door' who seemed to make a pretty handsome impression on the audience at the previous said Dappled Cities Annandale gig. I think we should begin our excitement because I have a feeling there are new fun and talented bands coming up that will sweep us off our feet and reinforce that there is still appeal in Sydney's independent music scene and that Cassette Kids aren't the only 'recently new' band around.
Reason 2) Some people think indie is becoming too "mainstream".
Perhaps this reason is a result of some Sydney bands who have recently had some exposure in the "mainstream" market, such as Bridezilla who have been hailed in Sunday Life and the like for their novel music with classical qualities at their delicate age, and being named amongst the "bands to watch in 2008" in the 2007 ARIA newspaper liftout. Perhaps it was because some of Sydney's darlings, namely The Holidays and teenagersintokyo, have scored play on television advertisements with 'Telephone' featuring as the music for a Clearasil ad and teenagersintokyo's 'End It Tonight' for Carefree panty liners. But really it is nothing to worry about and it is a bit of paranoia, although people are supposedly catching onto indie music, converting from the mainstream through word of mouth or by seeing an independent Sydney band support an international artist. Some people I know have approached me and have said "some friends and I are thinking of getting into indie music, lots of people are doing it right now", this was coming from people who used to say "Indian music? You're into Indian music!?" or those people who would tease me (and still do) by saying "You only like music that no one has ever heard of and if that music gets slightly popular you automatically hate it. You're such a music snob". But I think people are allowed to like the music they like but just as long as they don't think they look 'cool' because 'everyone else' is getting into it.
Bridezilla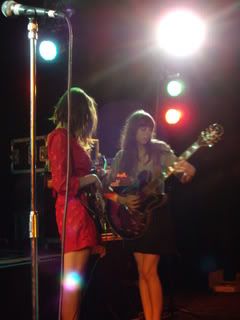 Reason 3) "Indie bands care more about the way they look than what their music sounds like."
Hmm..well at least with this reason they identified that it is pretty common to find indie bands that have impeccable fashion sense. Of course not all bands are fashionistas but I think people who care about presentation get a tick in my books. At least if the music doesn't sound good the way they present themselves is a bit of compensation.
But in honesty I think those reasons for the minor amount of people turning their back on Sydney's independent music or thinking that it is on the verge of extinction is lame. They should get their ass to a gig and stop being such old prudes.
YAY:
•Visual art mixing with music- I'm a big fan of the murals by fine Australian artists at OAF gallery. Kill Pixie is featured there right now, go have a look!
•"Wet Winter Holiday" by Philadelphia Grand Jury (band formerly known as The Sweats)
•Straight Arrows live gigs- Those kids perform fun and energetic live performances and they don't take themselves too seriously either.
•2008 Sydney Biennale-It's great to see the celebration of art in Sydney.
•Foals- Art school drop outs who have created magnetizing music and intriguing videoclips.
•A friend of a friend told The Teenagers when they were here the other month that they are (quote) "a fad".
NAY:
•The Teenagers gig at OAF-For a sold-out 18+ event there were too many under 18's to count. The Teenagers encouraged girls to jump on stage during the set, resulting in squealing girls to pose for photos with the musicians to post onto their myspace accounts.
•People smoking marijuana on 'Super Thursday' at The Domain for WYD- I was finding my way around the maze of barricades during my gallery hopping for the Biennale to pass the mass of pilgrims to smell that some were smoking joints. I think the Pope would have been mortified to know that his pilgrims were smoking pot in celebration of WYD.
I hope you kids like my photos I included..
Until next time lovelies! x