Packwood (Formerly Bear & I) is Bayden Hine, a young man who resides most of the time in Bathurst and part of his time in Sydney. Within in the last few months he has released his first EP (self-titled as Bear & I) on his myspace page as a free download.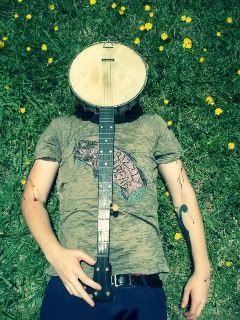 Packwood's EP revolves around the ideology of love and Packwood's struggle to understand his place in the universe; the music however, elicits romantic envisions of flowery fields full of animals running about freely.
'Sloan Great Wall'
is named so after the largest observable structure within the universe-it is a track embodying the dawn of a new day of Packwood's utopia, a place where the world wakes up with nature and without the complexities of the modern world; Bear & I reflects on what is most beautiful to him in life. The transition from the sole restless thoughts of the banjo to the orchestra expressing its celebration of life is symbolic of sunrise and the energy it brings with it.
'Longyearbyen'
is the second track, named after a small town close to the North Pole but is rather Packwood's imaginary haven, his Utopia observing the daily activities of the natural world where he finds comfort and solitude within and freely sings to the living inhabitants of this place.
'Western Spiral Arm of the Milky Way'
is a string-instrument piece, wading through Packwood's thoughts of Earth's location within the universe and his pondering to his existence within this universe.
Packwood's thoughts peeled away from his Utopia where he finds himself back down to Earth where in
'Alone At Midnight'
and
'Quickly Speak Celanesi, I Fear The Sun is Dying!'
he sings about his experiences of lust, the challenges of love and his inability to find comfort and understanding in the real world. The latter track is quickly paced and has a farewell feeling, a sense that the sun is setting leading to the end of another day but metaphorically that our world is heading the wrong direction.
This EP lets us into the romantic mind of Packwood and his olden-day values but how he has a tug-o-war between his idyllic world and reality. Upon first listen my eyes were watery and I escaped into Packwood's Utopia of a place we wish still existed.
[MP3] Packwood (Bear & I)- Longyearbyen