Hoorah! I've changed a couple of the template things. We still need a complete redesign, but hopefully it doesn't make you want to stab your eyes out like the previous header/background combination probably did.

I also added a tag at the side for the gig post i'm doing - Hopefully we can do some other parts of the blog that will be worth adding a quick link to. I'm also hoping to find a way to add quick links to just view all posts from one author. Just in case you only come here to read Zohara's thoughts, and don't want to wade through my stuff.
Let me know what you think!

Here's a comic.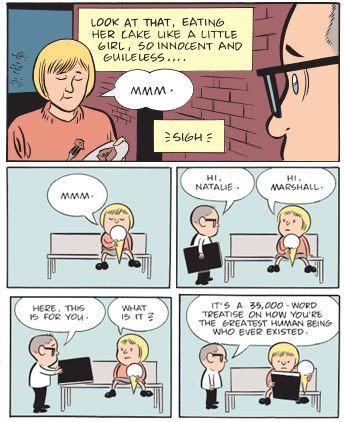 Oh, Dan Clowes <3. I stole it from Mr Wonderful, a serial he did earlier this year for the New York Times, which you can score PDF's of for free right here.